Diabetic Foot
Diabetic patients are exposed to the risk of developing foot complications in the form of ulcerations, infection and/or destruction of the deep tissues, associated with neurological abnormalities and various degrees of peripheral vascular disease in the lower limb.
The prevalence of foot ulcerations in patients with diabetes who live in developed countries has been reported as high as 10%; type 2 diabetes, older age, pre-existing neuropathy, reduced joint mobility and increased foot pressures are considered risks factors.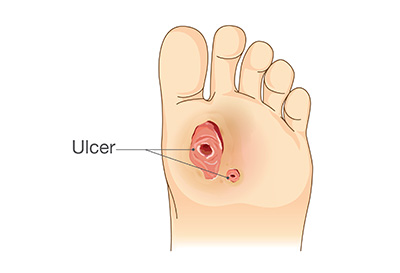 The Diabetic Foot is a complex, multifactorial condition; the main determinants and prognostic elements are highlighted in the WIfI classification:
extension of the Wound
Ischaemia / impaired circulation
Foot Infection
Diabetic foot ulcerations must be dealt as medical and surgical emergencies, due to the impending risk of rapidly evolving bloodstream infection (sepsis) and the risk of limb loss (minor or major amputations), potentially leading to devastating sequelae on the person's psycho-physical condition and quality of life.
Assessing and restoring adequate blood perfusion (see PAD section), controlling the infection and diabetes, adequate wound & foot care are the therapeutic pillars. This requires the multidisciplinary joint expertise of Vascular Surgeons, Diabetes Physicians, specialist Podiatrists and Infectious Disease Doctors.
OPENING HOURS
| | |
| --- | --- |
| Monday – Friday | 8:00 – 17:00 |
| Saturday | 9:00 – 12:00 |
| Sunday | – |
CLINIC LOCATION